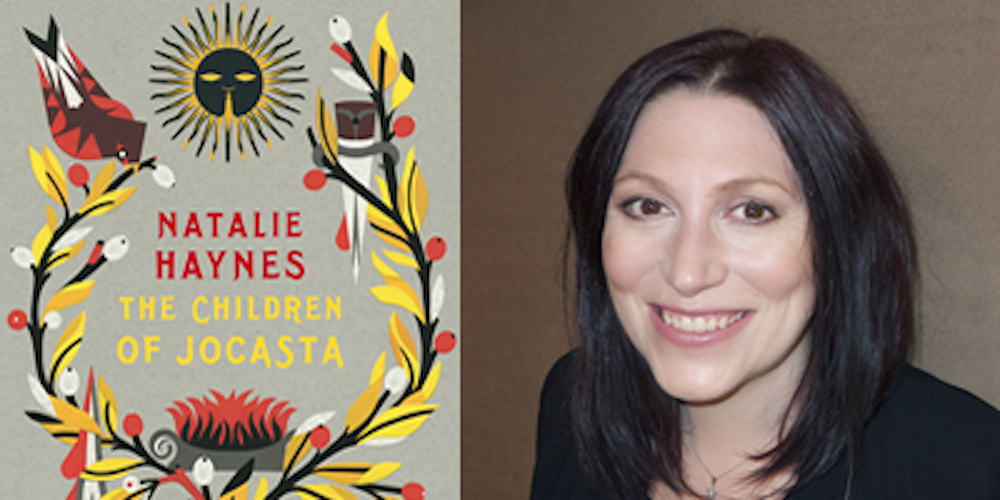 For the final lecture of the 2016-17 season, we welcomed the wonderful author and broadcaster Natalie Haynes. After an exclusive signing of her acclaimed new novel The Children of Jocasta, we were treated to a non-stop tour of the mythical history of Thebes, through the trials and eventual metamorphosis of King Cadmus (of sowing dragon-teeth fame), to the arrival of Dionysus and death of Pentheus, and then on to her fresh take on the story of Oedipus' family…thereby giving us a neat sense of ring composition since our programme began back in September with David Raeburn's recital of features of Sophocles' most famous play.
Natalie's talk sparkled with wit and an often wicked sense of humour, as capacious handbags, Batman, the audience's love of viticulture, her own timekeeping, and cat groomers were all abused and lampooned in turn. She also gave us a taste of a few pages of her book, which left us on a thrilling cliff-hanger, eager for more, and made us certain that The Children of Jocasta will prove to be another great success.
We learnt many valuable lessons from Natalie's talk, some of which may have become familiar to members over the past three years: to survive in Greek mythology, don't annoy Hera; don't watch Artemis bathing in the nude (in fact, just don't go hunting in the woods at all); don't let Dionysus persuade you to dress up as a woman; don't be too inquisitive, or smart, or confident in your own sagacity; don't try to escape a prophecy; don't get married, and ideally do not have children, and definitely don't trust oracles. Oh, and avoid Mount Cithareon at all costs.
In 2010 Natalie was the brains behind Oedipusenders, a great documentary which emphasised the debt of modern soap operas to ancient Greek tragedies. In her lecture, she again showed us how the dramas that we enjoy today are based upon the principles of Aristotle, as laid out in his Poetics – for him, a good tragedy must have an exceptional plot first of all, then strong, predictable characters, and a continuity of time; the visual effects and the music are only secondary, if important, requirements.
We would like to extend our thanks to Natalie for such an entertaining evening; to Student Ambassador Liv Sample for her excellent, eloquent vote of thanks; to fellow Ambassador Samuel Southern for once more entertaining us with a wonderful recital before the lecture; our volunteers and Classics Ambassadors for all their invaluable help this year; and, of course, to our 378 members who have supported our ventures and ensured that we remain the largest branch of the Classical Association in the UK!
We're looking forward to seeing many of you at the AGM and Celebration Evening on June 29th, where we will review the year's highlights and launch the new programme for 2017-18. If you would like to attend please email the Secretary at lsaclassics@gmail.com
© Katrina Kelly